Leather pouches are great to have, especially at the Renaissance fair or during Medieval re-enactments. A Leather pouch gives you a place to put your keys, cell phone, money or anything else that is important to you. Not to mention they look great with Medieval outfits or Renaissance clothing. We have traditional medieval pouches and Scottish sporrans. All medieval leather pouches are made of top grain 7/8 ounce leather that is hand tooled. These medieval leather pouches come in variety of colors as well as sizes to fit your needs.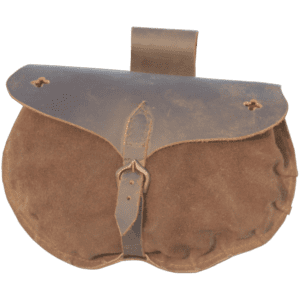 15th Century Soldiers Pouch
item # OB0616
This all-leather 15th century soldiers pouch will complement the outfits of re-enactors and role-players, as well as providing carrying space. This particular bag is crafted in roughout leather, with a belt loop and a buckle closure.
$

39.00
Add to cart